What if you could tap into life's magical flow more often?
Would you be open and willing?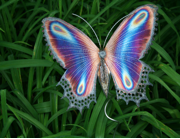 Your Soul knows all about the power of synchronicity. What appears as coincidence is the flowering of a seed that you planted with your intentions. It seems like a completely random event, but synchronicity manifests from a conscious or subconscious intention that you initially put out there.
Believe it or not,
you have a hand in making your own magic!
Following are EIGHT KEYS for opening the pathways of synchronicity in your daily life:
Be willing to let go of control as you open the space for amazing energies to flow through you and around you. Step onto the path of grace each day.
Be open minded, acknowledging the many possibilities. Synchronicity operates in possibilities so being open is important. Share this with others.
Just BE! Allow yourself to be in the moment. Awareness is a huge step towards harnessing the power of synchronicity. The signs are everywhere. As example of this is the same number showing up over and over again or a particular person showing up.
Listen with your heart and Soul. Choosing from your heart (versus your head) amplifies the power of synchronicity and movement.
Believe in miracles and magic knowing you have the right to miracles, as this is an abundant and light filled universe.
Invite all parts of your being to share. Begin to use your childlike wonder and ask lots of questions. The answers will begin to appear and gratitude will keep the ball rolling.
Be open and honest about your goals, dreams, and true heart's desires. Be an individual and go with what feels right in your heart and Soul.
Intention is everything, so if you have an intention that you are in a pure flow of synchronicity, it will be so!
-- Rev. Cathi Burke, from My Soul's Embrace
Want more?
This is the topic Week Four ~ Your Creative Soul Essence in the course Expand Your Soul Mission into Miracles, Abundance and Joy with Rev. Cathi Burke starting June 12, 2019.
Scroll down the page to hear more about Synchronicity in Preview 3! Click Preview to listen.